Introduction: Use Soul-bound to upgrade Bankai, display different forms of Bankai and increase attributes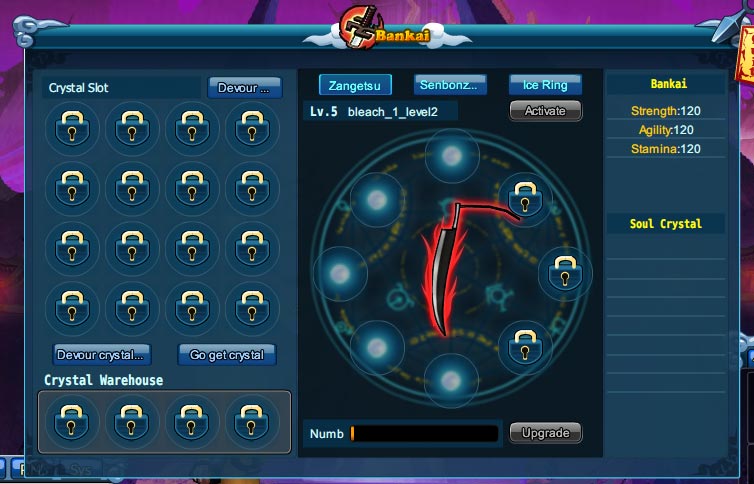 How to use Bankai
1) Bankai Tab
Each player has a primary form Bankai. There will be 3 tabs for 3 Bankai
The last 2 Bankai will be unlocked according to the level of previous Bankai
Bankai system is available to Lv.40 character
The second Bankai will be unlocked when the first Bankai reaches lv.4 (Difficulty rises every 4 levels)
The last Bankai will be unlocked when the first or second Bankai reaches lv.7 (Difficulty rises every 8 levels)

2) Activation
Activated Bankai will be displayed in the battle. Attribute will increase after Bankai is activated.
3) Bankai Attribute
Bankai has basic attribute itself which will raise after upgrading. Different Bankai have different attribute and potential.
Soul Crystal can be used to raise the overall attributes of Bankai and enhance its potential
The total attributes of three Bankai plus the total attributes of crystals are what the Bankai system offers to the user
How to upgrade Bankai
1) Bankai Level Introduction
Accumulate souls to upgrade Bankai up to level 8. Attribute and Soul-bound slots will increase after upgrade.
Names of Upgraded Bankai
Lv1 BankaiPrimary Form
Lv3 ZangetsuMedium Form
Lv8 Tensa ZangetsuUltimate Form
Lv3 Senbonzakura Medium Form
Lv8 Senbonzakura KageyoshiUltimate Form
Lv3 Hyōrinmaru Medium Form
Lv8 Daiguren HyōrinmaruUltimate Form
Bankai Soul-bound Item
Bankai Level Introduction1.
1). Soul-bound Slot
Lv.1 Bankai has 1 Soul-bound slot originally. Every level up increase one slot.
Each Soul-bound slot can only store1 Soul Crystal of the same potential and can't store crystal of the same attribute.
The embedded Soul Crystal will raise Bankai's attribute.
2) Soul Crystal
EXP: The amount of EXP for upgrade is up to the grade of the soul. The better the grade, the more EXP it needs.
Grade: The color of the crystal represent their grades: Green- Blue – Purple – Gold. Soul Crystals of different grades differ in original attribute and Growth Point
>Attribute Potential: Strength, Agility, Defense, Stamina, Armor Break, Dodge, Hit, Max HP, etc.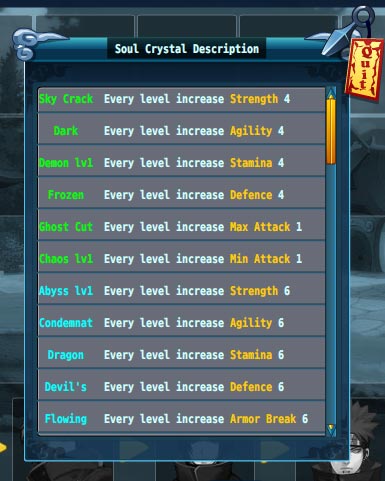 How to get —
A) Soul Society:
Select a Soul Crystal Forge Master on the interface. Use free tries or coins to get a chance for advanced Forge Master.
There will be a better chances of getting advanced Soul Crystal as Forge master level goes higher.
B) Function:
Get it for free: Refresh (once) at 00:00 every day. Once free tries are used up, you have to spend coins to get it
1-Click- Sell: Only sells out valueless shards
1-Click-Claim: Claim all crystals. If there are not enough slots to store all crystals, you'll get a prompt.
C) Crystal Slot and Crystal Warehouse:
Ninjas can store crystal in the Crystal Slot and Crystal Warehouse. But Devour is only available in Crystal Slot
D) Devour
Devour: Drag one of the Soul Crystals to another Crystal Slot that has stored Soul Crystal.
EXP Crystal can be devoured by Soul Crystal, it can't devour EXP Crystal itself
Rules:
★

Low grade crystal will be devoured by high grade one while its EXP will be added to high quality crystal

★

For crystals of the same grade, crystal with lower EXP will be devoured by high EXP one and its EXP will be added to high EXP Crystal.

★

Soul Crystal has its basic EXP. Basic EXP increases with grade.

★

Crystals of the best grade or highest level can't devour or be devoured.